Internet Wave
Jump to navigation
Jump to search
Internet Wave files originated with a company named VocalTec and dates back to the very early days of multimedia on the web. It is likely a vocoder since it was also used in a VocalTec product named Internet Phone.
There are 2 formats at work. The first and most visible is VMD which is actually a plaintext file which directs a browser plugin to download the VMF file via HTTP. A VMD takes the format similar to:
[VMD]
Base=http://www.sonic.net/~thorn/KROS/hotwave/piano.vmf
Ver=1.0
Mood=Music

[Info]
Title=PianoRoom
Source=MIDI SMPTE PC studio
Author=Thorn Filipelli
Description=A grand piano in a large room, heard on the wind.

A VMF file is simply a WAV file with a codec ID of 0x7150.
Screenshots
Screenshots provided for posterity:
Internet Wave player running under Windows 3.1: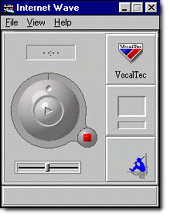 Internet Phone application running under Windows 3.1: