Difference between revisions of "Vodei"
Jump to navigation
Jump to search
(started adding info about the format)

Line 1:
Line 1:
−

'''Vodei Multimedia Processor''' is a software product whose stated purpose is enabling playback of files created with the Vodei encoder. The files consist of the original multimedia file and a short [[AVI]] file with an additional encrypted/obfuscated segment appended to the end.

+

'''Vodei''' is product is of files. files consist of a AVI encrypted/the .

 
+

 

 
 
 

==Playback==

 

==Playback==
---
Revision as of 16:07, 12 March 2007
Vodei is proprietery multimedia container based on the AVI format. A product known as Vodei Multimedia Processor, which is avilable for Microsoft Windows from http://www.vodei.com, is the only known way of displaying or converting Vodei files. These files consist of three parts: a standard compliant AVI video which is displayed when Vodei MP is not installed, a specifically encoded/encrypted/formated video which plays when the appropriate software is installed, and a small amount of non visual data.
Playback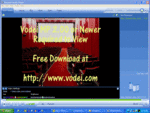 The AVI portion of the file usually contains a short advertisement for vodei.com encoded with Microsoft RLE. Vodei Multimedia Processor is the software which will decode the additional segment. This can be confirmed, and perhaps bypassed<ref name="hexeditor">http://www.vladd44.com/video/vodei.php</ref>, through the use of a simple hex editor program. Upon playback without the processor, the player will only show a short advertisement for the software (pictured right). After downloading and installing the software the file should play fine.
Vodei MP is available for Microsoft Windows. After installation, playback of Vodei encoder created files works in media players such as Windows Media Player. Vodei MP is not a codec, and after extracting the additional data from the end of the AVI file, simply passes it to the standard Video for Windows interface for decoding (verifiable through a hex editor). An MPEG-4 decoder such as ffdshow is required for the actual video decoding.
Suspicion and speculations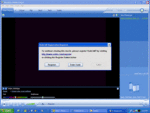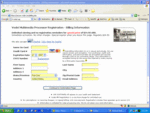 According to the Vodei MP website, the Vodei encoder makes it possible to store higher quality movies in smaller files. The method used to achieve this is not disclosed on the official website. Furthermore, while Vodei Multimedia Processor is advertised as a free download, the Vodei encoder is not publicly available and its target audience is not revealed by the Vodei MP creator, which is a source of heated debates and articles questioning the real purpose of the software, its business model, and describing how to transform files produced by the Vodei encoder back to standard file containers or investigating the origin of S.V.R. Consulting Ltd., the alleged Vodei MP creator <ref name="vodei-1">http://vodei.wordpress.com/what-is-vodei/</ref> <ref name="vodei-2">http://www.videohelp.com/forum/archive/t260799.html</ref>.
More controversy has arisen regarding the software's claim to be "costless". The software displays a nag screen after an undisclosed amount of use (pictured right).<ref name="nag-screen-1">http://www.vodei.com/faq.html#5</ref> <ref name="nag-screen-2">http://www.siteadvisor.com/sites/vodei.com/</ref> This is to entice the viewer to purchase the software and redirects the user to a registration page <ref name="registration">http://www.vodei.com/register.html</ref>. Typing in any 32 letters and/or digits will bring you to another screen asking for payment information (pictured right).
Still more controversy has arisen around the fact that all encoded files tend to be illegal copies of adult and mainstream movies. To date, there appear to be no known instances of perfectly legal movies circulating around the internet using the encoding. There have been unsubstantiated accusations that the software is an attempt to track illegal pirating.
There have been accusations that the software is spyware or adware but there is no evidence to support this claim. Another possibility is that the software is meant to facilitate media pirating, yet enable the potential for profitability (by distributing pirated content freely, but getting money from people who want to play the encrypted files by charging for the decoder — an idea strengthened by the use of the Vodei encoder to encrypt movies on the pirate movie site http://moviesempire.com/ ). Yet another, more benign, theory is that the software is a beta model of an encryption technique that can allow media to be shared openly, yet still allow the original authors to receive payment for their work.
An individual identified as "VodeiMark" frequented at least one webboard between 2005 and 2006 in an attempt to dispel the mistrust of users<ref name="webboard-1">http://forum.inmatrix.com/index.php?s=&showtopic=2256&view=findpost&p=12989</ref>. This effort did not appear to be successful. He has issued an open invitation for those with questions to contact him via his email<ref name="webboard-2">http://forum.inmatrix.com/index.php?s=&showtopic=2256&view=findpost&p=12989</ref>: mark@vodei.com.
References
<references/>
External links